Approach for
professionals
You have not yet planned a solution for the management of your watchmaking waste, yours and/or that of your consumers?
You want to be part of the community of responsible professionals and benefit from an efficient turnkey solution to recycle your consumers' used watches and jewellery. The process is simple, join Eco Tempo and send us all types of watches and jewellery.
First, Fill out this contact form for professionals and we will contact you as soon as we receive your request. Then, we will establish together your main needs and see how much your annual membership to the Eco Tempo concept would cost you.
According to your needs, Eco Tempo offers several advantages :
Tax deduction of 60% of the amount of the value of the new goods.
Marketing operation of collection in your shops , in order to highlight your responsible commitment and your products.
Increasing your traffic in shops.
Enhancement of your watch brand.
Management of your WEEE (Waste Electrical and Electronic Equipment) waste and collection from your consumers.
Participation in a circular economy : The dismantling of watches and jewellery is made by people in social integration.
Reduction of your carbon impact thanks to the recycling of your watchmaking waste.
Eco Tempo in the
French Press
The Watches
"A dead quartz or mechanical watch? Log on to www.ecotempo.net and you'll receive a postage-paid envelope so you can send it free for recycling."
ELLE
04.11.2011 - colonne de Katia Pecnik
Young autistic people at Ag2i start recycling.
"Our big challenge is a proof of a possible collaboration between a social integration association, a private company and a social health-care institution."
At AG2I watches have a second life.
"According to Eco Tempo, one ton of recycled watches corresponds to 634 kg of sorted metals, 11700 batteries recovered and 67 kg of leather".
The Gers Innovation & Economy Awards for 2018
"Eco Tempo gives a second life to jewellery and watches."
La Dépêche du Midi
10.10.2018 -
Septuors 2018 showcase Gers talents
"Winner 2018, Environment prize: Eco Tempo in Auch. The only player in its niche sector, Eco Tempo recycles watches. "
La Dépêche du Midi
17.10.2018 - Article Marc Cetène
Employment despite disability
"AG2I wants to create a company adapted to employ disabled people. They would work in the recycling of watches."
La Dépêche du Midi
23.11.2018 - Article de Gaëtane Rohr
Eco Tempo, the great watchmaker of recycling
"Since 2010, Eco Tempo has been developing an original and innovative concept for the recycling of used or damaged watches and jewellery."
La Gazette du Midi
23.12.2018- Article Marc Pouiol
Louis Pion: "Recycling is winning" a well-perceived approach
Interview with Frédérica Roux, the marketing, communication and digital director of the watchmaking branch of Galerie Lafayette.

"Beyond the immediate benefit during the "Recycling is Winning" marketing event, our customers are above all motivated by the citizen and eco-responsible gesture of the concept. "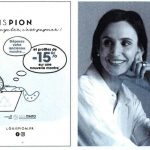 La Revue des Montres
Avril 2019 -
Louis Pion at the time of recycling: A partnership with Eco Tempo
Interview with Mr. Jean Luc Bernerd, founder and CEO of Eco Tempo.
"The idea was born in 2010, from a simple observation of the watchmakers market. At that time, I felt that there was a missing link for watches and jewellery : the recycling approcah. The CSR policies were aware and talking about it, but nothing was really being done. On the consumer side, a lot of pieces ended up piled up in the drawers.
I registered the concept the same year, because I wanted to offer the possibility to all : consumers, watchmakers, manufacturers and retailers to recycle their components".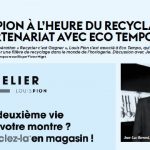 La Revue des Montres
Février 2019